Regular Activities at Ceddesfeld Hall
---
Acoustic Group
Last Wednesday & 2nd Friday of the month-8:30pm
Sedgefield Acoustic Group is a group of singers and musicians that meet on the last Wednesday of every month (and sometimes the first Friday). It gives an opportunity to those who may not otherwise play outside of their own home to have an audience and get together to share material and knowledge in a mutually supportive environment. The group includes those less confident through to seasoned performers and those who write their own material. Everyone who comes along is given great support and encouragement to improve.

Players cover a range of material from standard chart covers to folk and blues and the range is always surprising. Most play guitar but other instruments include the ukulele and the accordion – everything is welcomed. The format is a sing around – each player playing a song and playing again when their turn comes round. The group perform individually as The Last Wednesdays at local events.

The arrangements for the group are very informal – basically turn up after 8.30pm on the last Wednesday and join in. Follow us on Facebook
Art Group
Thursday 10am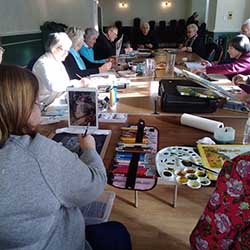 Our group known as Ceddesfeld Art Group has been around for over twenty years. However, none of the current sixteen are founder members. Our group currently comprises nine women and seven men, most are members of other SCA sections. We meet in the main hall every week.

We all are interested in a variety of media, ranging from acrylics, pencils, pastels, watercolours and oils. The more experienced people are always willing to help new artists with advice in the selection of materials and techniques. We usually put on an exhibition about once a year in Ceddesfeld.

If you would like to join our friendly group, pop along on any Thursday morning, or contact Malcolm Scott on 01740622871. Subs are £1 a session plus the annual membership of SCA. Coffee and tea are available from Nancy in the kitchen for a small charge. We wouldn't be without it!!!! Remember, all abilities are welcome.
Learn to play Bridge
Tuesday 7:30pm
New members are always welcome to learn to play Bridge. The sessions are every Tuesday 7:30pm in the Chetwynd Room and cost £3.00 per session.
---
Contact: Mildred Howell
, mildredhowell@btinternet.com, 01740 620115.
Bowls Club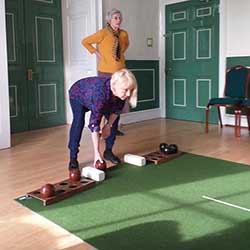 The Bowls Club has been a thriving club since the very early days of the SCA and currently has 37 members. Carpet bowls is a gentle sport that can be enjoyed well into old age providing exercise and social interaction for members as well as providing for members who still have a keen competitive nature.

Internal competition matches are played annually and the club plays in the Durham Community Carpet Bowls League. We play all over County Durham against teams in Wolsingham, Escomb, Bowburn, Lansdowne, Bishop Middleham, Tudhoe and Hamsteels.

Sunday Afternoons: The Wimpey Tadman and Internal Competitions only
Monday Afternoons: 1.30pm-4.30pm
Tuesday Afternoons: 1.30pm-4.30pm
Thursday Afternoons: 1.30pm-4.30pm
Thursday Evenings: 6.30pm-10.30pm Durham County Community Carpet Bowls Matches or Internal Competition

Internal Competition
First game in each section £1.50
Subsequent Games £1.20
DCCC Bowls League Matches
£1.50 per Sedgefield Team Member. Guests 30p for Coffee/Tea and Supper. Visiting League Team Members-Free
Membership Fees paid annually in January £10. (£7 for membership of Sedgefield Community Association and £3 for membership of Sedgefield Bowling Club.).
---
Contact Sheila Sutherland
, Secretary, for further information 01740 622532 or 07823777411
North Eastern Concertina Players
Sunday: Beginners 1-2pm, Main Group 2-5pm (m-2nd). Improvers 1-3pm (m-3rd)
The North Eastern Concertina Players meet on the second Sunday of the month from 2pm to 5pm in the Ceddesfeld Community Centre, Rectory Row, Sedgefield, Co. Durham TS21 2AE. (No meeting in August). We promote and encourage the playing of concertinas of all systems and players of any standard and experience welcome. There is an annual subscription of £7, payable in January and a charge of £1 for each time you attend a session.

If you have never played a concertina before but think it might be something for you, contact our chairman, Dave Turner, who can give advice on how to get started. We sometimes have instruments which can be borrowed and can also give guidance on purchasing an instrument. Concertinas are not cheap - have a look at secondhand instruments on ebay - so you need to be sure.

We have a beginners group which meets on the fourth Sunday of the month from 1pm to 3pm. (No meeting in August). It also meets for an hour from 1pm to 2pm before the main group, so the players can then join in the main group, if they wish.

We play a variety of music, mostly in four or five parts, from written music, using treble, baritone and bass concertinas. We usually spend the first hour working on a new piece or revisiting something we have tried before, then after tea and biscuits and a chat, we hear solo pieces from anyone wishing to show what they have been working on. For the remaining time, those present pick something for the whole group to play. We are not a folk group - in fact most of the music we play is not folk - but there are many folk tunes in our repertoire.

We are a small, friendly group and all concertina players are welcome. If you have any questions, please contact:
---
Dave Turner
, Chairman, telephone 01642 588197, email mail@daveturner.org.uk
Craft club
2nd & 4th Tuesdays in month-7.30pm
Craft club are a friendly group of people who enjoy all things crafty. New members are always welcome and will have an opportunity to participate in varied activities including, sewing, stitching, embroidery, card making, knitting etc in a small, friendly group environment.

Sometimes, group projects are worked upon and demonstrations of new skills, techniques and activities are arranged. Come along to socialise, develop your skills and improve your ability and creativity.
---
Contact: Jean Easson
01740 620656
Durham Deafened Support Group-Card Craft group
Wednesdays 1-3pm
NEW card craft group at Ceddesfeld Hall starting Wednesday 17th May, 1pm to 3pm.

Don't let hearing loss exclude you. call in for a friendly informal chat. For more information contact us:
---
14 Upper Yoden Way Peterlee, Co. Durham SR8 1AX or
0191 5183358
or e-mail –
admin@ddsupport.org.uk
.
Durham Deafened Support Group
Mondays 1-3pm
"On the edge of conversation, one of the loneliest places on earth"
Do you or does someone you know have a hearing loss? Is the hearing loss causing misunderstandings and communication breakdown? It's not only a profound loss that excludes people from the "normality "of everyone else's lives, sudden or gradual, slight or profound hearing loss can have a traumatic affect, it changes lives, only those who have endured it can fully understand the affect that it has not just on the deafened person but on their families also.
DDS employ four lip-reading teachers who teach weekly. They also provide:
1:1 support for people or families who are struggling to cope and none residential rehabilitation courses
1:1 and group tinnitus support.
Information and demonstrations regarding hearing aid compatible phones, personal listeners room loops etc; all things that help the deafened person and their families to cope with hearing loss
Information/awareness events, taking along hearing aid compatible phones, personal listeners and room loops as well as an abundance of information on Cochlear Implants, Tinnitus we are a "try before you buy" for BT, Action on Hearing loss (AOHL) and Sarabec which is a local manufacturer of equipment for hard of hearing people
For older or housebound people, they take equipment to their homes and demonstrate equipment that could be of benefit to them (they do not sell anything)
Attendance at the group is by referral only if you are interested in attending a group or would like them to demonstrate equipment please contact DDS either via phone – 0191 5183358 or e-mail – admin@ddsupport.org.uk. Or visit the website www.ddsupport.org.uk
Ladies Escape
Fortnightly on Thursdays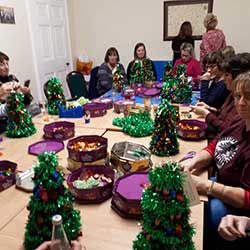 Ladies Escape is group of friendly ladies who enjoy getting out and about and socialising. There is no age limit and current members range from mid thirties to mid sixties. A programme of events is organised, including activities such as, summer pudding night, cinema visit, Seaton Carew walk and fish and chips, theatre visit, carrier bag party, summer BBQ, quiet drink and chat at the Dun Cow, visit to local dairy, visit to tomato grower, Christmas night out and car treasure hunt etc.

Charity events are organised at various times, with an annual donation being made to a suggested charity each year. The group meet every 2nd and 4th Thursday in the month. Fees include membership of SCA (£8 annual fee) plus £1 meeting to cover room hire.
---
Contact Janet Scott
01740 631611, janetscott11@btinternet.com.
Friends of Ceddesfeld Gardens
See notice board for details
Fund raising and organising conservation and environmental work.
Handbell Ringers
Wed 7:30pm, (Mon. eve. 1st week of month)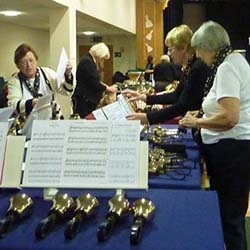 The Handbells Group meets every Wednesday at 7:30 pm at Ceddesfeld Hall (Monday in the first week of the month).

We have great fun playing old favourites and learning new pieces and occasionally perfom them. The ability to read music is an advantage but not vital.

We would welcome new members at any time.
---
Contact: Sarah Britton
01740 621004
Ladies Club
2nd & 4th Tuesdays in month-7:30pm
A relaxing social evening featuring talks, carft, cookery and beauty demonstrations, quizzes and the occasional shared supper.
---
Contact
jspinks68@yahoo.co.uk
Local History
1st Monday in month-7:45pm
April 1st: AGM
May 6th: "Comedy in Music" by Olley Burton
May 14th: Day Trip to Castle Howard-all welcome
June 3rd: "Details and Detours; Hidden features of North-East Architecture" by Graham Soult
June 4th: Day Trip to Ushaw College-all welcome
July 1st: "Lewis Carroll" by Chris Lloyd
September 2nd: "Wooden Boats and Iron Men" by David Hastings
October 7th: "Roman Excavations in Sedgefield" by David Mason
November 4th: "Postcards from the First World War" by George Nairn
December 2nd: "Christmas in the Workhouse" by Martin Peagam
All meetings start at 7.45 at Ceddesfeld Hall.
---
For further information please contact
Suzanne Hopper
on 01429 882250
Lyric Singers
Friday-7:30pm
The Sedgefield Lyric Singers are a friendly and enthusiastic community choir. Established in 1974, today's choir is as committed to the enjoyment of singing with friends as it has ever been. We now have 47 members who meet on Friday evenings at 7:30pm to sing a variety of musical delights including: classical, pop, musicals, choral and folk. We are a community choir so there are no auditions required and no need to be able to read music. What you do need is enthusiasm, a sense of humour and a love of music. Men are especially welcome to make up the Bass, Baritone and Tenor section.

The choir give a number of performances each year, including concerts with the Sedgefield Lyrics Youth Choir in the Parish Hall, and performances across the region. In 2015, the choir took part in the Sage Gateshead's 'Sing The Living' concert in Hall One with a number of other groups from the North East. Led by Musical Director Rob Guest and accompanied by Kristen Peacock, rehearsals are fun and energetic - a great way to start your weekend and it's good for your health too!
---
Come along and have a go – we would love to meet you
on Friday 7:30 - 9pm at Ceddesfeld Hall, Sedgefield.
Follow Us On Facebook
Visit our website
Northumbrian Pipers (Cleveland Branch)
2nd Wednesday in month-8pm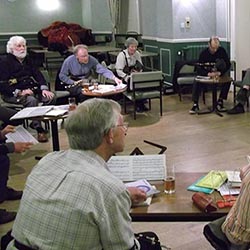 We meet on the second Wednesday of the month in the main Hall at 8.00pm. We are a friendly and enthusiastic group who share a love of the Northumbrian Smallpipes, the North's traditional instrument. We enjoy playing music composed for the pipes from Northumberland as well as folk music from Scotland, Ireland and around the world. There are usually about twelve pipers at our meetings and we also have concertina, fiddle and recorder players. Everyone is most welcome to come along and join us to play pipes (or another instrument that can play in 'f') or simply to listen.

If you feel you would like to learn to play the pipes we have beginners sets for hire, and we have a beginners' session in the Oldham room upstairs from 7.00pm to 8.00pm before the main meeting.

We have a performing group who practise upstairs on the fourth Wednesday of the month from 7:00pm - 9:00pm and play mainly at NGS gardens opened for charity around the region. We have also played at annual dinners, weddings, Sedgefield Fayre, and various summer fairs and concerts for charity. Last year we produced a CD as a result of requests from members of the public. Do come and meet us if you would like to know more about the North's own instrument.
---
Contact Dave Cook
,
01325 310114
or e-mail
dcook0@talk21.com
.
Pop In Club
Tuesday, Wednesday am & Thursday pm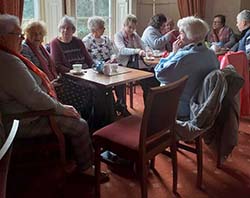 This is very friendly group for older people.

They meet every Tuesday and Wednesday morning and Thursday afternoon. It's always good to pop in for a chat and keep up with friends, have a cup of tea and some cake. New members are always welcome.
---
Contact: John Hannon
(Secretary) 01740 622512
Sedgefield Players & SPYS
Sun & Wed-7:30pm.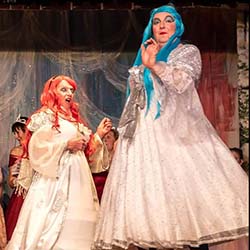 Meeting twice weekly in the parish hall, Sedgefield Players produce a wide range of shows, offering a variety of challenges to members. The Players present full-length plays in Sedgefield Parish Hall in March and June, a traditional pantomime at Christmas and a Festival of One Act Plays in September.

Our youth section (SPYS – aged 7-17) join with the adults in pantos and other shows, as well as putting on their own productions with great success. Sedgefield Players and SPYS have won numerous awards at our own and other festivals. New members are very welcome in any capacity – acting, singing, dance, stage management, technical work, costume, make-up, set design, front of house – or anything else you may have to offer!

13/14/15th June-Summer production
19/20 July-SPYS production
9th-14th September-Drama Festival
27th-30th December-Pantomime
---
For more information,
visit our website
Sedgefield Squash Club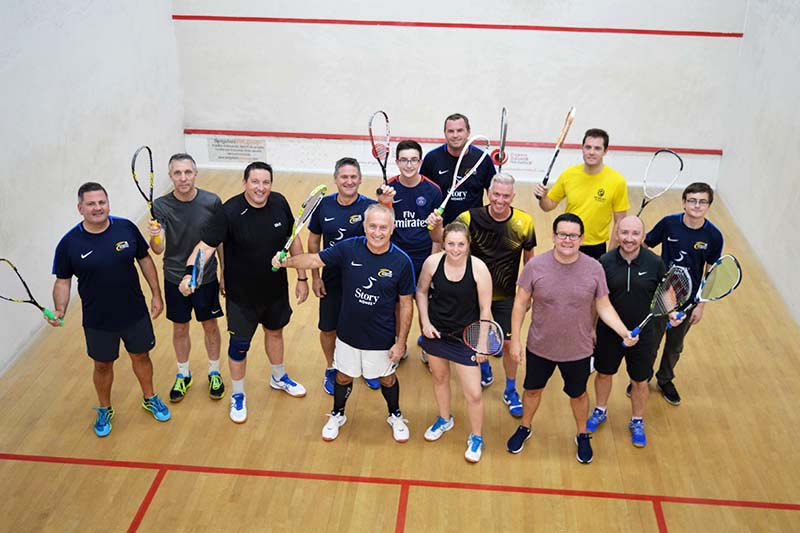 We are a friendly and welcoming squash and racketball club based within the grounds of Ceddesfeld Hall in Sedgefield, easily accessible to other local villages and towns in South East Durham area. This long established club has 2 well maintained courts, and is currently planning a 3rd court.

We have successful and active mens, ladies and junior sections and have a range of competitive leagues both internally and playing against other local clubs in the Durham & Cleveland Squash Rackets Association. We run Junior Coaching sessions on Saturday mornings from 9am for children aged 6 upwards all coaching is run by England Squash qualified coaches who have up to date DBS qualifications and some of our coaches offer 1-1 coaching sessions for Juniors and adults. Whether you are looking to play competitive squash or just want a friendly game we have something for you.
---
Why not come and join us?
Membership Secretary: Sue Smith
07834 977590.
SLYC (Youth choir)
Friday-6pm (except school hols)
The choir is for young people between the ages of 9 and 18 years of age. No audition is necessary, just a love of singing and a willingness to work hard and improve. The choir enjoy singing a wide range of songs, including pop, folk, gospel and choral. The children are encouraged to develop new skills, learn harmonies, improve their musicality and sing for health and well being.

SLYC perform to the community on several occasion throughout the year, joining the Lyric Singers and Lirica for their Christmas and summer concerts.

The choir is led by Rob Guest and Kristen Peacock and meet every Friday from 6:00pm to 7:15pm.
---
Contact Rob Guest
on 07813 601731
Spiritual Group
Thursday & Sunday 7:30-9:30pm
Come along and grow your own abilities. Read tea leaves, read water, tarot cards, psychometry, transfigeration and more every week. Open your eyes to your own abilities. £3pp. Turn up and give us a go.
---
Contact Jason
on 07422504745.
Poster
Facebook
Twinning
Sedgefield Twinning Association was founded nearly 37 years ago, in October 1982. During that time, the citizens of Sedgefield and Hamminkeln, Germany, have become good friends, and we hope that the friendship will continue for many more years! Originally run by the Town Council, the STA is now run by an enthusiastic group of volunteers, on behalf of the council. We have an official visit to Hamminkeln every other year, and on the alternate year we welcome Germans to Sedgefield.

During the year we have various fundraising events so that we can take our guests on trips and for meals when they are here. Our founder members are now no longer able to take such an active part, but we are hopeful that we will be able to continue the connection with younger people, and are delighted that the Harriers already have strong links with Hamminkeln. We are hopeful that more groups and individuals will continue with this connection, as friendships such as these help us all to understand each other better. If anyone would like further details on our activities, please contact our secretary
---
Judith Edgoose
on 07899 984464, or email edgoose@f2s.com.
Ukulele workshop
Every 4th Friday 8pm to 10pm.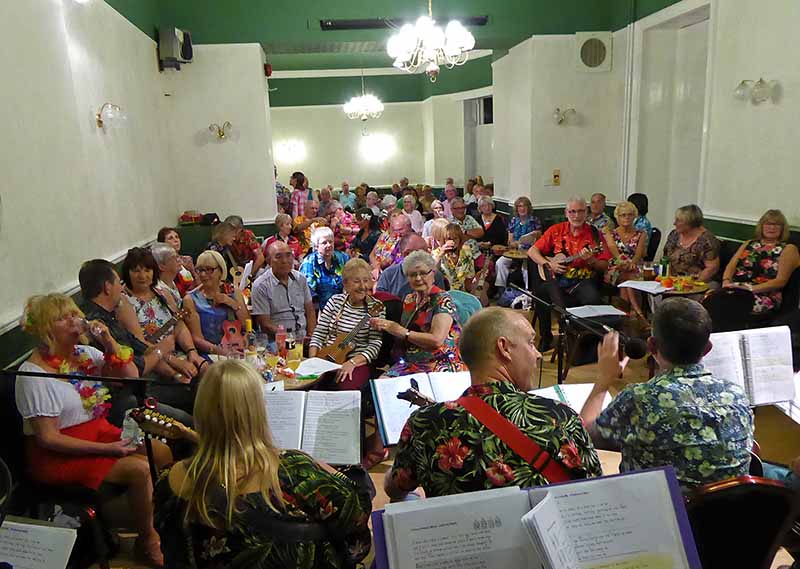 Run by Lol Crallan.
This group of very friendly players ranging from absolute beginners to advanced.

Music and song sheets are provided and there are also a limited number of ukuleles to borrow, on the night, for those not wishing to make a purchase before trying. Tuition is differentiated to suit the range of ability and there is opportunity to perform during each session.
---
Please
contact Lol Crallan
on 01740 621729 if you require further details, or just come along. It will be great to see you, and the bar is open too!
Veterans
See notice board for details
Regular meetings in and around the village. Friday 5th April, Friday 3rd May, Friday 7th June, Friday 5th July, Friday 2nd August, Friday 4th October, Friday 1st November & Friday 6th December. All at the Parish Hall.